Steve's Bands & Biography
---
THE LATE 80's AND EARLY 90's
In 1987, Steve and Conrad Kipping were asked to play as a duo at a cosy English Pub in Uxbridge for one weekend. It turned out that they went over so well they wound-up being the house band (The Casuals) for over three years. It was on these regular gigs that Steve developed an entire new repertoire and his skills as an acoustic guitar player. Working without a list, Conrad and Steve went through literally hundreds of songs over this three year period. Taking turns picking out obscure tunes of all styles and switching instruments back and forth, they both, despite their vast previous experience, really matured as artists and performers. Often a diverse selection of guest musicians would drop by to sit in and many a night the duo became a rolicking band, delighting the regulars and visitors one and all.
Steve and Conrad also worked with another country rock band at the same time called The Diamond Rio Band that also included Black Creek banjoist Dave Pearce.
photos below, Conrad & Steve (left at the Hobby Horse)(right at Bluffer's Park)circa 1988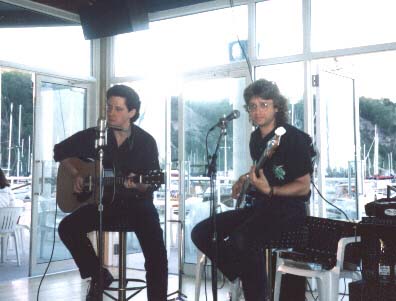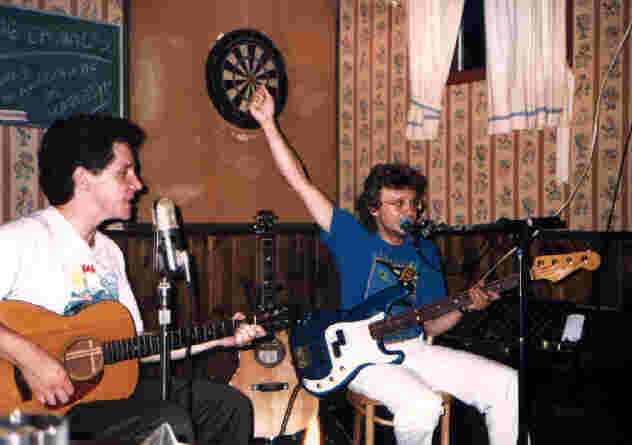 This is a cartoon of Conrad and Steve at the Hobby Horse drawn by the bartender and published in the pub's promotional materials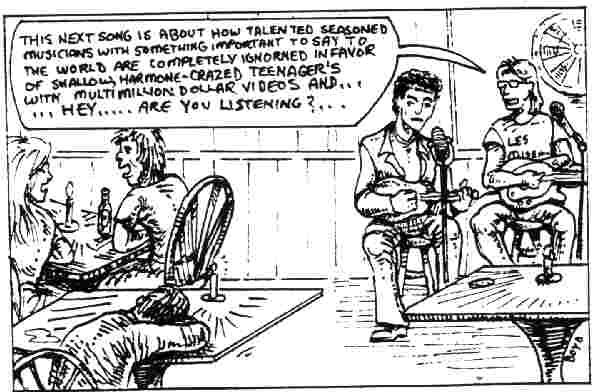 They were also very popular as back up musicians for several folk artists such as Margaret Chrystal. The duo also performed at the Winnipeg Folk Festival in 1987 where they appeared on the same bill and did workshop performances with Donovan, Lyle Lovette, Newgrass Revival, and many other well known acts. They also performed for a few years with the Czechoslovakian blugrass band "Checkgrass". See the dorky promo photo below with Frigo (left), Conrad, Zdenick and Steve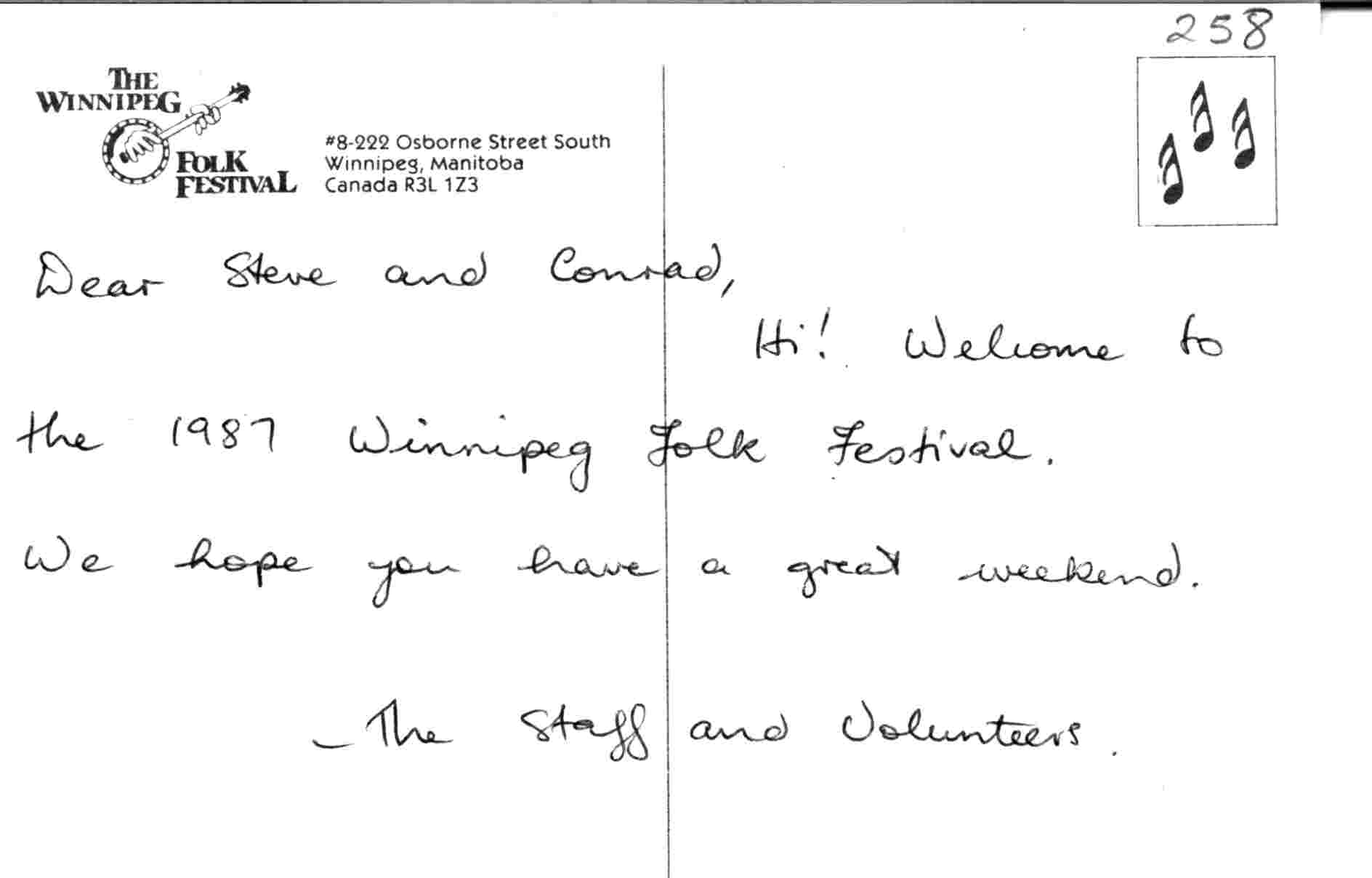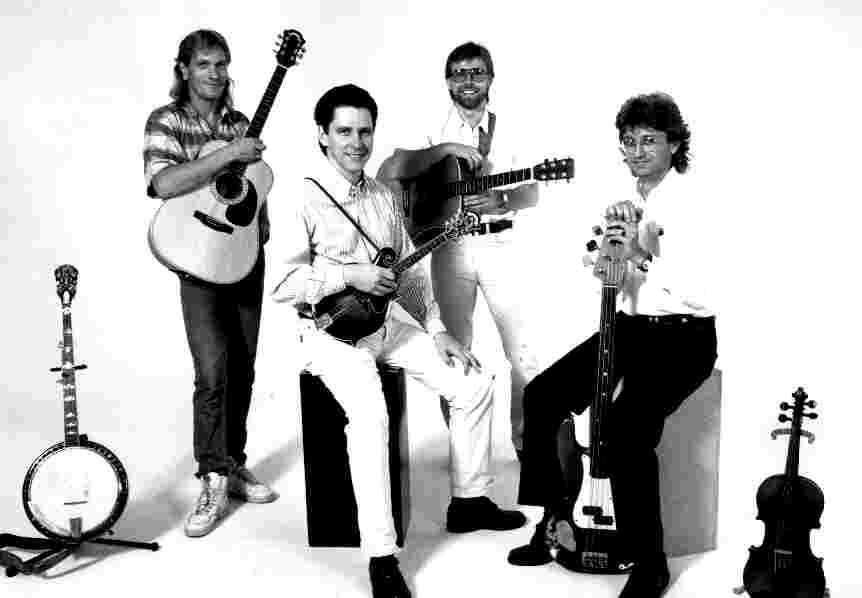 Still working with Conrad every other weekend, Steve picked up freelance work on his other free weekends. It was on one of these pick-up gigs in November 1991 with Valerie Shearman's Midnight Angel band he met up with his current musical partner and guitarist Eric Mahar and drummer David Norris. Keeping busy with Valerie, these three became a steady, tight, power rhythm section with great backing vocals.
Around the same time he also picked up some work with a hot R&B band called,"The One Step Band" led by guitarist Christain Bechard

---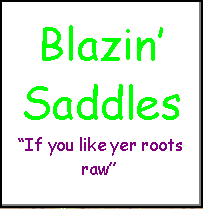 In 1993, after a few years of working with Valerie Steve started a new group called BLAZIN' SADDLES with Eric, Dave and Mark Blaise. Eventually Mark and Eric had to leave and were replaced with Black Creek vet, Dave Pearce and Rob Sagar. (Rob was a memeber of a favourite Toronto bands, FOOLISH BEHAVIOUR & MONDO COMBO)

"Bluegrassed & bent, Blazin' Saddles ride in...with their Hank-Williams-in-a-punky-mood sound.." A "high energy assault on bluegrass and country."

-The Toronto Star

"Local bluegrass, blues, R&B and rock players meld their diverse influences in Blazin' Saddles, playing dates around town..."

-Now Magazine

Combining diverse backgrounds in country, bluegrass, jazz, R&B, and rock an' roll, Blazin' Saddles had a tight and punchy rhythm section, hot picking and a relaxed but professional attitude, which gave the band a personality that was irresistible. With dynamic three part vocal harmony, the three strong lead singers each had a repertoire that covered a wide range of styles. While their material was carefully chosen and full of surprises, they were able to adapt to any audience. This versatility and Blazin' Saddles' easy, polished and charming stage presence always keet 'em comin' back. They developed a large and loyal following in the Beach area of Toronto.

For more on the BLAZIN' SADDLES story click here on the thumbnail: