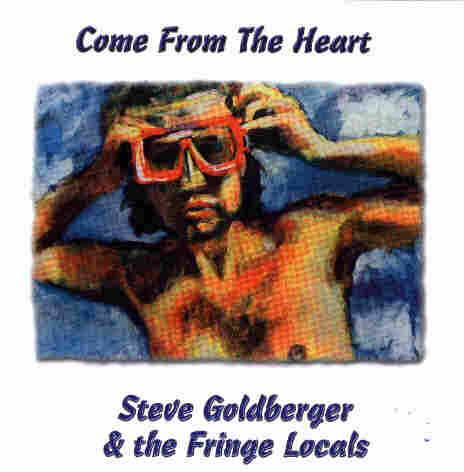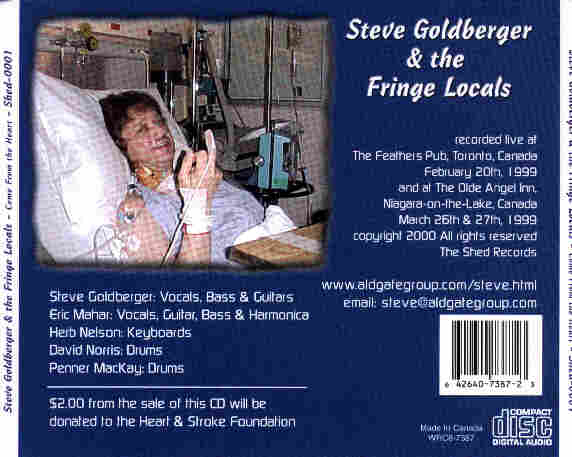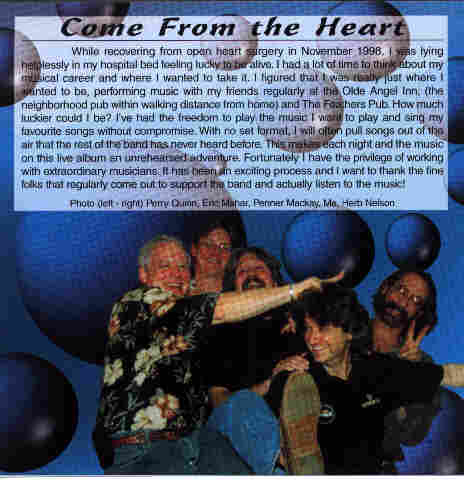 an album of songs recorded live at The Feathers Pub in Toronto and The Olde Angel Inn in Niagara-on-the Lake, Ontario February/March, 1999
While recovering from open heart surgery in November 1998, I was lying helplessly in my hospital bed feeling lucky to be alive.
I had a lot of time to think about my musical career and where I wanted to take it. I figured that I was really just where I wanted to be, performing music with my friends regularly at The Olde Angel Inn,(the neighbourhood pub within walking distance from home) and The Feathers Pub.
How much luckier could I be? I've had the freedom to play the music I want to play and sing my favourite songs without compromise. With no set format, I will often pull songs out of the air that the rest of the band has never even heard before. This makes each night and the music on this live album an unrehearsed adventure. Fortunately I have the privilege of working with extraordinary musicians. It has been an exciting process and I want to thank the fine folks that regularly come out to support the band and actually listen to the music!
$2.00 from the sale of each album will be donated to the Heart and Stroke Foundation.