2015

COSMIC COWBOY RECEIVED 8 NOMINATIONS AT 2015 NIAGARA MUSIC AWARDS!
AND STEVE WAS AWARDED
PRODUCER OF THE YEAR
SONGWRITER OF THE YEAR
COUNTRY ARTIST OF THE YEAR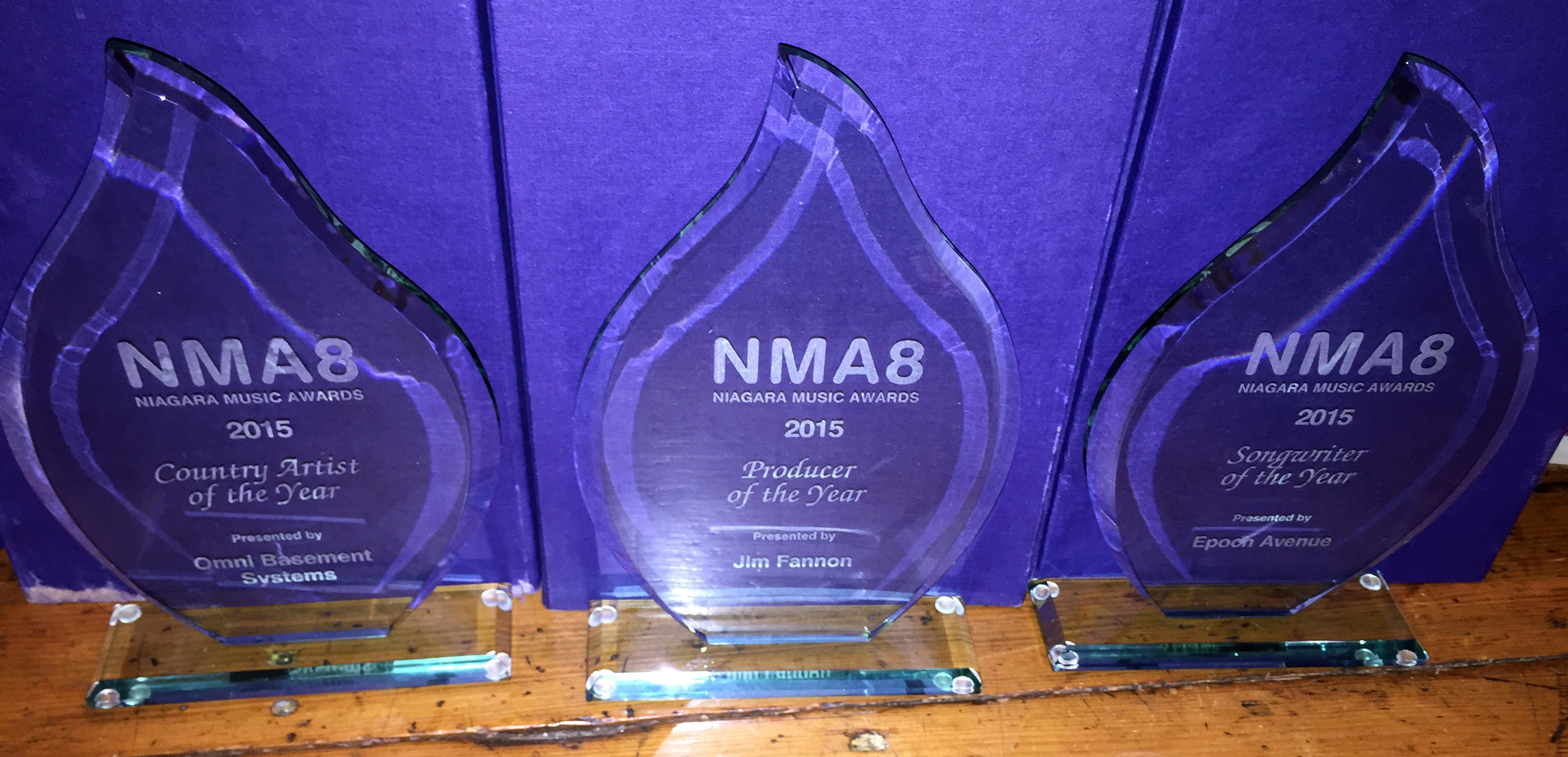 READ ALL ABOUT IT...


This is a new short documentary about Steve's 2105 COSMIC COWBOY CD


This is the video for the first single "I LIKE OLD THINGS"

COSMIC COWBOY CD REVIEWS:

"The Niagara Region certainly has its fair share of great musical talent, actually more than its fair share, but there are a few artists who have quietly been going about their business for years, that sort of are a bit off the radar, but really are the true gems. One such artist is bassist and singer Steve Goldberger. For many years Steve and his group of musician friends, "The Niagara Rhythm Section," had a weekend residency at the Anchorage Hotel in Niagara-on-the-Lake. When that closed down they moved their shows to The Old Winery Restaurant on Niagara Stone Road, and every Friday and Saturday night you can find them jamming out with a rotating series of guests. The shows are always top-notch and highly entertaining. Now his backing group is "The Old Winos" on Fridays, but still "The Niagara Rhythm Section" on Saturdays.

Over the years Steve has recorded several albums which feature a mixture of original and cover songs, and "Cosmic Cowboy" is his latest release. As with his live shows, the album features a who's who of top local talent, including Jesse Cobb, Jim Casson, Penner and Andrew MacKay, Steve Grisbrook, Tim Hicks and Serena Pryne, amongst many others. Steve's vocal style is laid-back and slightly reminiscent of Bruce Cockburn, and the choice of songs is eclectic, but leans towards a rootsy singer-songwriter and country rock style. The album features covers of Nanci Griffith ("I Wish It Would Rain"), Michael Martin Murphy ("Cosmic Cowboy - Part 1", "Backslider's Wine"), Rodney Crowell ("Ashes By Now"), Laura Nyro ("And When I Die"), and the traditional standard, "Katie Did." As good as these songs are, I think Steve's talent shines brightest on his own songs. "Old Things (As Now I've Become One)" revives the spirit of Little Feat, with its bouncy rhythms, flourishes of Dixieland horns, and amusing lyrics about an obsession with garage sales and flea markets. "The Day After You" is definitely one of this album's standout tracks, with its lyrics about happily surviving a broken relationship, and featuring guest vocals from Tim Hicks. "The City Waits For Her" tells the story of a young small town girl, who wants to move to the excitement of the big city of Toronto, and features vocals by Serena Pryne. The album closes out with "It's Not Funny," which has a smooth R&B sound, and wry lyrics typical of Steve's songwriting.
- Marty Murray, gObE.COM

Your CD rules dude! I've had it in my car for the last week and know it front to back. Track three is my fave for sure. I like old things...as now i become one! HA. big smile on my face as I heard that for the first time.
So much colour in the songs. So many voices, both human and instrument and drum. So much groove and joy. Rooted in solid wisdoms of love and then some kind of letting go or freeness. It's so musical and beautifully produced. With lots of real moments and creativity captured. Sonically it rocks too, and sounds great in the car. Bravo!!!
- Whitney Peterson, songwriter, performer, artist

"I�ve been listening to it non stop. I love it! Really, really love it. It�s a work of art man.....not only are the songs and performances great and inspiring but the thing just sounds so amazing."
-Fred Gabrsek - Sound Designer, Shaw Festival

"What a f_____in' awesome CD !!! I can hear Cam on Kiling Time!!! Jessie Cobb and Mark on Cosmic Cowboy part 1 -hmmmm! !!! Loved all of it !!!"
- Mary Graham, NOTL

" ..so very enjoyable to hear you. I guess my current favourite is The Day After You, but there is such a range�"
- Cris Cuddy - Songwriter

Lorna and I want you to know how much we are enjoying Cosmic Cowboy. The job that you have done in putting this together, fantastic arrangements and vocals we find are absolutely amazing. Congratulations on this amazing piece of work."
- Wayne & Lorna Short, Oakville, Ontario

"Lovin your record.... especially Cosmic Cowboy..... love the line about the city slickers and pickers and their slicker licks.... CLASSIC! and great sound... and I can totally relate to the lyrics of OLD things.... used to have that obsession and still have some of the clutter to prove it."
- Lawrie Ingles - songwriter

"I am really enjoying your new release. I like how (in some parts) you have returned to your bluegrass roots. Your lyrics and melody in The day after You and It's Not Funny , are particularly noteworthy.
A fantastic compilation with great backup musicians. The mix is clever and beautifully produced. Old Things is my new theme song!"
- Craig Roberts - bandleader, performer

"Cosmic Cowboy' by Niagara-on-the-Lake's Steve Goldberger Features an Astounding Mix of Styles
Niagara-on-the-Lake singer and multi-instrumentalist Steve Goldberger, has always mastered a range of styles (he leads the Americana/Roots band Old Winos and Blues/Soul outfit The Niagara Rhythm Section). His 6th album, Cosmic Cowboy, shows him at his best. Steve and a number of his talented musical friends have put together an astounding mix of covers (including fabulous versions of Rodney Crowell and Nanci Griffith tunes) and unique originals. Folk, Bluegrass, Country, Cajun, Roots and everything in-between are all performed with gusto.
There's no shortage of accomplished musicians on this disc. Vocal duets with Tim Hicks, Serena Pryne and Mary Simon (Mississippi Bends) are a major highlight. Steve's also joined by Denis Keldie, Mark Lalama, Wendell Ferguson, Andrew Aldridge, Cam MacInnes, Roger Marin, Mike Glatt, Steve Grisbrook, Shane Guse (Western Swing Authority), Jeese Cobb, Jim Casson, Dave Norris, Andrew MacKay and Peter Griffin."
- http://blueshamilton.blogspot.ca/2015/08/cosmic-cowboy-by-niagara-on-lakes-steve.html
---
2012
"MUSIC OF TOM PETTY HITS NIAGARA"

---
2011 YEAR END MUSINGS AND THANKS

Here's hoping you all had a wonderful Christmas, Hanukah, Festivus or whatever you may celebrate. It's that time of year where we all try and spend quality time with friends and family and if you're lucky enough, fly somewhere south to warmer climes.

It can also be a melancholy time either remembering and missing loved ones no longer with us, assessing our accomplishments/failings of 2011, making resolutions for the new year or just being pissed at the cold weather. (Which fortunately this year hasn't been too bad.)

So with that in mind (and new CD's by Bruce Hornsby, Buddy Miller, Ry Cooder, Vince Gill, Trucks/Tedeschi and the best of Jimmy Buffett on rotation), I just thought it would be nice to say thanks to all of my friends that have supported our musical activities this year. In that regard, it's been a pretty good year. I personally have much to be thankful for, having had a very fulfilling year and the opportunity to play with so many fantastic musicians.


The Niagara Rhythm Section, the Old Winery...

In October the Niagara Rhythm Section celebrated our first full year of residency at The Old Winery Restaurant here in Niagara-on-the-Lake. I couldn't be more happy playing every Saturday night in this beautiful venue. The owners are so supportive of what we do. They made the stage larger, added some pretty cool lighting and are always encouraging me to experiment and bring in new artists. They get it and love good music.

How lucky am I to get to be part of such a great group of players? Dave Norris, Penner MacKay & Sandra Marynissen round out the rhythm section with me. Steve Grisbrook has been workin' it out on guitar with us now pretty steadily for about 6 or 7 years and organ wunderkind Rodger Niznik has been with us for about 2 years. The beautiful Denis Kelide plays with us often. How cool is that?

Just in this past year, we've backed up some amazing artists whose musical genres are so diverse. Just to name a few... Jerome Godboo, Danny B., John Findlay, Maureen Brown, Harrison Kennedy, Gayle Ackroyd, Dawn Duvall, Lance Anderson, John Dickie, Cheryl Lescom, Blair Packham, Toney Springer, Al Lerman, Debbie Fleming, Mitch Wallace, Shrimp Daddy, Paul Martin, Carlos Del Junco, Neil Chapman, Raoul Bhaneja, David Gogo, Mark Lalama, Paul Reddick, Jon Knight, Bernie LaBarge, Bill Colgate & Cam MacInnes, Marty Allen, Stacey Kaniuk and more... We've got some cool new artists coming in for the first time in 2012 so be sure to check out the full line up on my website.

The Winery has also been giving me the last Friday of every month to do what I please and it's been fun doing some acoustic and songwriter nights with Blair Packham or Eric Mahar, as well as putting the old Fringe Locals band back together.


"Theme/Tribute Nights Are Us"

In the last couple of years I've been fortunate to have been invited to play bass for a few tribute nights in Toronto this year. Warren Zevon, Carole King and Darryl Hall. It was really great to meet and play with a whole new bunch of amazing singers and players. (Lawrie Ingles, Dan Maclean Jr., Laura Fernandez, Talia Schlanger, Tony Robalao, Vince Macarone, Heather Hill, Chloe Whatkinson, Neil Brathwaite, Sam Boutzouvis, Mark Cassidy, Stacey Tab, Emrah Kento, Jennifer Harvey...) And oh, the songs are just so good.

We've had some successful theme nights this year at the Winery as well. Mardi Gras, Bob Dylan, The Stones and on Jan 20th, 2012 we'll be doing the songs of Jimmy Buffett. All of these theme nights have been a great success with people being turned away at the door due to capacity houses. With all the work it takes to put these shows together it makes it all worthwhile to see a full house really enjoying the show!

Other Stuff

Other random musical highlights for me this year include
-Subbing for Gary Kendall with Mighty Duck Blues Band at the Duck. A great band, fantastic audience and venue.
-Being in the house band with RIk Emmett, Topher Stott and Alistair Bradley at Blair Packham's Songstudio concert at Hugh's Room backing up some amazing songwriters
-Doing lots of stuff with my old friend Blair Packham
-Several recording projects at my studio including a CD of harp music with Karen C. Smith, 16 songs with blues band Root Magic, demos for several artists including singer/songwriter Rene Huard, indi band Life Problems and more.
What more could an old fart like me ask for? Ok well, enough rambling... Thanks for listening! Wishing you all a happy and healthy 2012 and hope to see you soon.
---
NEWS
"TEA, CRUMPETS & ROCK MUSIC"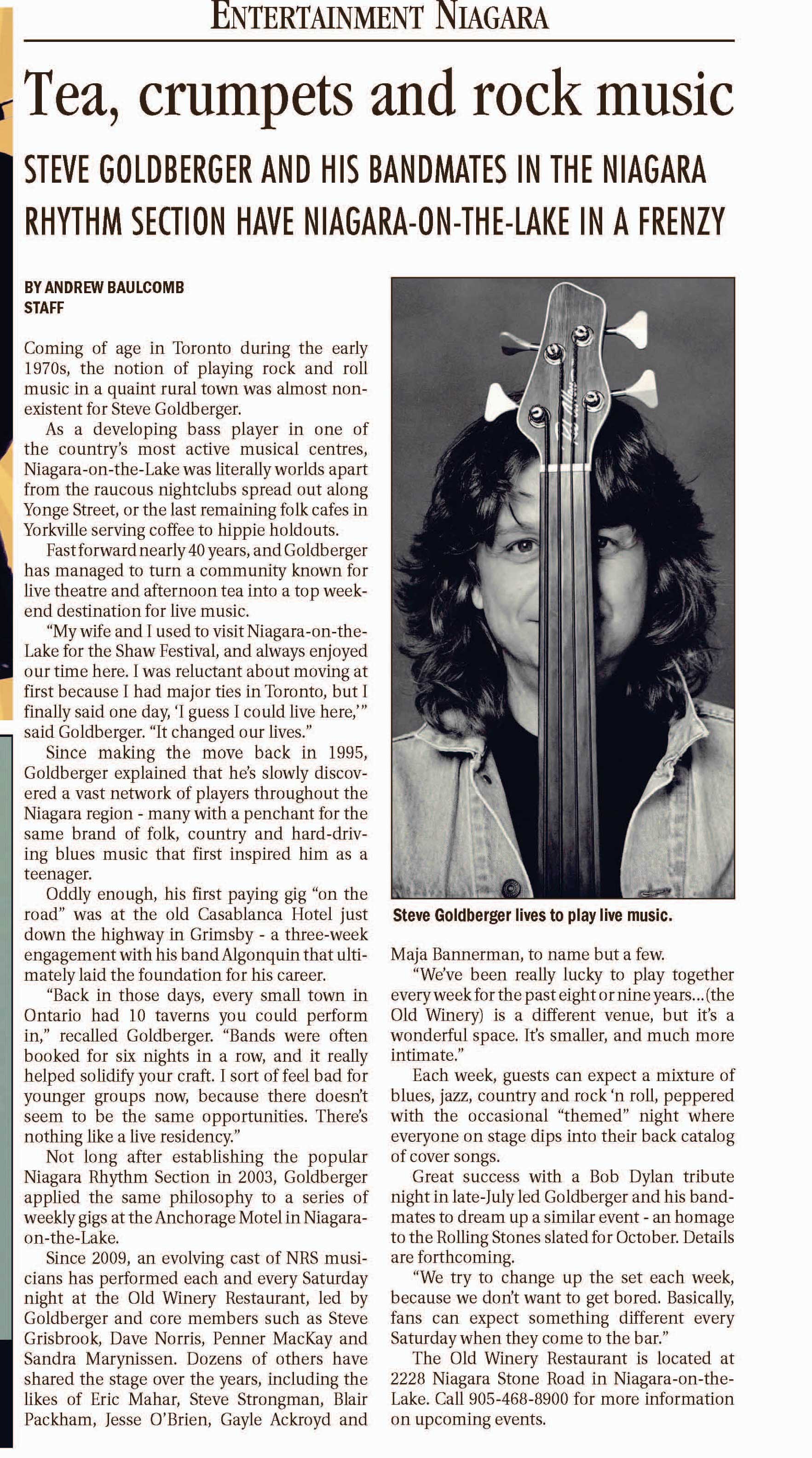 You can now order our CD's directly from me using a credit card or PayPal account. Check out our music!
STARTING OCT 16TH, 2010, NIAGARA RHYTHM SECTION MOVES IT SHOWS TO THE OLD WINERY RESTUARANT, NOTL. EVERY SATURDAY NIGHT